Description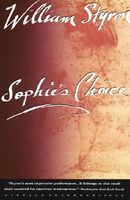 Part One Of Two Parts
Choice: Stingo, our young Southern narrator. Manuscript reader for a major publisher...or...a genuine novelist soaking up the experiences that one day will re-emerge as stories of great power and precision.
Choice: Nathan Landau. A charming sophisticate possessed of great intelligence...or...a classic schizophrenic, a manic depressive with a consuming distrust of his lover's fidelity.
Choice: Sophie Zawistowska, the Polish Catholic immigrant, forever stamped with her decision in a Nazi Concentration Camp.
Having already chosen between her homeland and freedom, she must ultimately choose between life alone and death in the arms of her lover.
Full Synopsis
About the Book
Published:

Apr-1979

(Hardcover)

Sep-1983

(Paperback)

Formats:

Print / eBook / Audio

Pages:

562

Purchase: