Description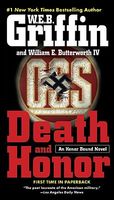 The year is 1943, and Argentina is officially neutral, but crawling with every kind of spy, sympathizer, and military official imaginable. The hero is Cletus Frade, a Marine pilot recruited by the OSS, with strong family ties to Argentina, and in Death and Honor--Griffin's fourth book in the series and the first since 1999--he's got a lot on his hands.

OSS chief Wild Bill Donovan has asked him to set up his own official-but-really-OSS airline in Argentina, using "loaned" Lockheed Lodestars and Constellations. Of even more concern

are two interwoven German operations. The first is a government scheme for Jews outside the Fatherland to purchase the freedom of their relatives in concentration camps, who will then be transported to Argentina and Uruguay. The second has to do with where that money is going: a plan called Operation Phoenix, which will establish safe havens for senior Nazi officials in Argentina, Brazil, and Paraguay. Needless to say, the OSS is very interested in both of them, and if Frade can somehow find out a little more . . . without getting killed, that is. Which, as Frade is about to find out, is easier said than done.
Full Synopsis
About the Book
Published:

Jun-2008

(Hardcover)

May-2009

(Paperback)

Formats:

Print / eBook / Audio

Pages:

771

Age Level:

18 & up

Purchase: