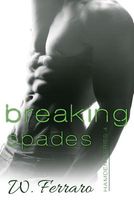 Newest Release
Bibliography:

7 Books - 2 Series

First Book:

September 2012

Latest Book:

May 2016

Rating:
Full Series List in Order
1 - Afraid to Fall (Oct-2014)
2 - Taking the Fall (Mar-2015)
1 - Three of Hearts (Sep-2012)
2 - Three of Spades (Feb-2013)
3 - Three of Diamonds (Aug-2013)
4 - Breaking Spades (Mar-2014)
Book List in Order:
7

titles
Three of Hearts

Mae Turney is searching for the type of life and happiness she has never known but has only dreamed about. She's fortunate enough to find a great opportunity to live in an exterior apartment of a beautiful lake house in a small town in Vermont. When ...

---

Three of Spades

Dylan Cross is the type of man that enjoys everything female, and enjoy it he does, but always on his terms. However, his terms are pushed to their limit when Natalie Parker proposes an offer; teach her and her delectable little body, all about sex a...

---

---

Breaking Spades

Cecille "CeCe" Cervetti lives her life by one rule: Never let a man control her heart, ever again. CeCe has built a life to be proud of--she's successful in business, and in lust. Men are her playground, to take from, and use to her body's co...

---

Afraid to Fall

/ Contemporary Romance

Jaded and hardened by the ultimate of betrayals, Clearwater Falls Sheriff Gage Dennison is content with his simple, detached life.With only his loyal dog at his side, Gage has successfully maintained the walls he's built around his life and heart for...

---

Taking the Fall

/ Contemporary Romance

Hunter Dennison has been an overachiever in all aspects of his life. He knows what he wants and goes after it, and he intends to follow suit in his love life with the young and beautiful Molly. His patience is at its last resolve as he waits for her...

---

Refusing to Fall

/ Contemporary Romance

Reed Dennison prides himself on perfection. Strategizing and maneuvering himself into positions of success in his professional life; all the while holding every detail regarding his personal life close to the vest. For Reed, every aspect must be cont...

---
Frequently Asked Questions (FAQ)
W. Ferraro has published 7 books.
W. Ferraro does not have a new book coming out soon. The latest book, Refusing to Fall, was published in May 2016.
The first book by W. Ferraro, Three of Hearts, was published in September 2012.
Yes. W. Ferraro has 2 series.