Description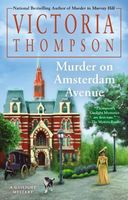 In this Gaslight Mystery from the national bestselling author of Murder in Murray Hill, midwife Sarah Brandt and Detective Sergeant Frank Malloy investigate foul play in the secretive high-society world of nineteenth-century New York City…

In the midst of Sarah and Frank's wedding preparations, Sarah accompanies her mother on a condolence call to the Upper West Side, where Charles Fairfax, the son of family friends, has died unexpectedly after suffering from a mysterious disease. It is a tragic and all too common story -- or so it seems. Charles's father asks to speak with Sarah privately. He believes his son was poisoned and would like Sarah and Frank to look into the matter with the utmost discretion.

Putting their own personal affairs on hold, Sarah and Frank soon learn that not everyone wants to know more about Charles's death, particularly if he was murdered. As they unravel secrets that reach back to the War Between the States, they also discover that they are in the company of a very present danger…
Full Synopsis
About the Book
Published:

May-2015

(Hardcover)

May-2016

(Paperback)

Formats:

Print / eBook / Audio

Pages:

304

Age Level:

18 & up

Purchase:
What Readers Are Saying
What do you think? Write your own comment on this book!
Write a Comment

3 1/2! This Gaslight mystery series set in late 19 century New York City, is one of my favourite historical mystery series. I like the recurring characters and Ms. Thompson's plotting is usually tightly paced and the mystery is usually tricky. In this book, Sarah and Frank are in the midst of getting their new home ready and planning their upcoming wedding when Frank is asked by one of Sarah's father's friends to find out how his son died. He had taken sick suddenly and had been sick for a few days and then died. His son was newly married with a new job. As Sarah and Frank try to determine what happened to Charles Oakes, they uncover some old and long buried family secrets in the Oakes family. These secrets date back to the American Civil War and it soon becomes apparent that these secrets, though buried, still have the power to inflame someone to murder, someone who doesn't care how many others are killed in the process. Unfortunately, I didn't find this book as compelling as others in the series have been. I had determined almost immediately who the killer was, and I had also figured out what the big secret was that caused the string of murders. I still enjoyed the characters, and it was nice to see Sarah and Frank finally get married. Their marriage will change the structure of future books and investigations, but I am looking forward to reading more in the series.