Description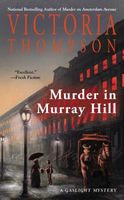 In national bestselling author Victoria Thompson's Gaslight mysteries, the residents of nineteenth-century New York City turn to midwife Sarah Brandt and Detective Sergeant Frank Malloy to protect them from the worst crimes. Now, the two must track down a criminal preying on innocent women…

Frank Malloy has never known any life other than that of a cop, but his newfound inheritance threatens his position on the force. While trying to keep both his relationship with Sarah and his fortune under wraps, he's assigned to a new case -- finding a missing young woman who had been responding to "lonely hearts" ads in the paper before she disappeared. Malloy fears the worst, knowing that the grifters who place such ads often do much more than simply abscond with their victims.

But as Sarah and Malloy delve deeper into a twisted plot targeting the city's single women, it's their partnership -- both professional and private -- that winds up in the greatest peril…

Full Synopsis
About the Book
Published:

May-2014

(Hardcover)

May-2015

(Paperback)

Formats:

Print / eBook / Audio

Pages:

304

Age Level:

18 & up

Purchase:
What Readers Are Saying
What do you think? Write your own comment on this book!
Write a Comment

I love Victoria Thompson's Gaslight series set in turn of the century New York City. For those not in the know, Sarah Brandt is a widow who actually comes from a very rich Old New York family, but she married a doctor who didn't have a moneyed family background. He is murdered and leaves Sarah a young widow who doesn't want to go back to her family. She has a nursing background so she sets up a successful business as a midwife. Detective Sergeant Frank Malloy is a New York City cop, who unlike many in the force at that time is honest and doesn't take bribes. He solves crimes the old fashioned way and tries to bring law and order to the streets of New York City. Sarah and Frank met a few years ago and their romance has blossomed as they started solving crimes together. The series characters are wonderfully written, and I love the personal things that keep coming up about Sarah and Frank and their respective families. In this book Ms. Thompson is taking a swipe at lonely women who are preyed upon by unscrupulous men. Believe it or not, this is not a new phenomenon. The newspaper Lonely Heart ads were just like the cyber preying that is so prevalent nowadays, but at a much slower pace obviously since the women and the cads who tried to trap them had to conduct their business and set up their trysts by post. Sarah and Frank run into a particularly odious villain in this book who preys on the not-so-attractive and lonely women. What he does with them is horrendous and it is difficult to read about the poor women and their trials, but really it's not much different than what is in the news today. Ms. Thompson is a worthy nominate for the Edgar and Agatha Mystery awards with this historical series.