Description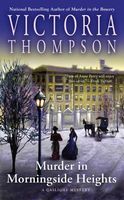 In the latest from the bestselling author of Murder on St. Nicholas Avenue, former police sergeant Frank Malloy and his wife adjust to life in New York high society as they investigate a death in the field of higher learning...

After spending his first few weeks as a private detective by investigating infidelities of the wealthy, Frank has a more serious case at hand.

Abigail Northrup of Tarrytown, New York, was her parents' pride and joy. After graduating from a prestigious women's college in Morningside Heights, she took a job there as an instructor. She also joined the ranks of the New Women, ladies planning for a life without a husband in which they make their own decisions and make a difference in the world. Unfortunately, her murder ended all that.

When the police declare the incident a random attack and refuse to investigate further, Abigail's parents request Frank's help. Of course, he'll need Sarah's assistance as she's more familiar with the world of academia, and it will be far easier for her to interview the lady professors. Yet difficulties arise as they learn that although Miss Northrup may have been an exemplary student and teacher, she lived in a world of secrets and lies…
Full Synopsis
About the Book
Published:

May-2016

(Hardcover)

May-2017

(Paperback)

Formats:

Print / eBook / Audio

Pages:

304

Purchase:
What Readers Are Saying
What do you think? Write your own comment on this book!
Write a Comment

I found this book a rather weak entry into the Sarah Brandt series. Maybe it's because Sarah and Frank are now married and happily ensconced in their new mansion. Frank's no longer with the police and Sarah is no longer practicing midwifery. This domestic bliss, funnily, seemed to take away from the suspense and excitement of the story. These books are enjoyable because they always seemed to be a realistic portrayal of life in late 19 century New York City. This book does that to a point, but even that seems watered down somewhat. It was okay, but certainly not a page-turner.