Description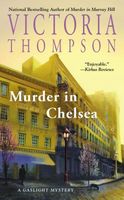 Sarah Brandt is shattered when she learns that a woman has inquired at Hope's Daughters Mission for Catherine, the abandoned child she has taken as her daughter. The woman claims she was Catherine's nursemaid, now acting on behalf of the girl's mother to reunite them.

Unwilling to simply hand Catherine over to a complete stranger, Sarah asks Malloy to investigate. But when he goes to interview the woman at her tenement in Chelsea, he finds she has been murdered.

Though her death leaves Sarah's claim to Catherine unchallenged, her sense of justice compels her to work with Malloy to find the killer. Their search takes them from the marble mansions of the Upper West Side to the dilapidated dwellings of lower Manhattan and into the deepest and darkest secrets of Catherine's past.

And while Malloy helps Sarah determine the fate of the child she loves, he faces a challenge of his own -- and his decision could change both their lives forever…
Full Synopsis
About the Book
Published:

May-2013

(Hardcover)

May-2014

(Paperback)

Formats:

Print / eBook / Audio

Pages:

304

Age Level:

18 & up

Purchase:
What Readers Are Saying
What do you think? Write your own comment on this book!
Write a Comment

I did enjoy this latest Sarah Brandt mystery, but I have to admit that I figured out the murderer(s)? early on in the book. But that did not spoil the book for me as I so enjoy Ms. Thompson's writing and her fast-paced plotting. And the ending was a wonderful surprise too. Ms. Thompson's sense of time and place is spot on and she portrays her era (New York City-late 19 century very convincingly. I really like Sarah Brandt and Frank Malloy. They make a formidable crime-fighting team. This book delves into the life of Sarah's ward - 4 year old Catherine, and we find out how she ended up as a foundling on the settlement home for women where Sarah Brandt volunteers. Unfortunately, Catherine's resurfacing past puts her in grave danger and Sarah and Frank must protect her from thos who want to harm her. We are also treated to a closer look at Sarah's parents, Mr. and Mrs. Felix Decker. It was nice to see a bit more of them in this book. This is an excellent historical mystery series.