Description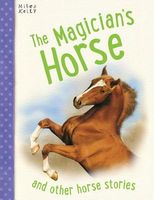 Horse Stories The Magician's Horse allows young readers to discover some of the bravest horses from classic literature.
Including stories from Anna Sewell, Andrew Lang and Sir George Webbe Dasent, these wonderfully illustrated stories will enthrall kids aged 5+. Each story has been simply retold to motivate confident readers to read alone. Part of our much-loved horse stories books collection, young horse fans will love each new adventure.
Stories found in Horse Stories The Magician's Horse:
# A Stormy Day, from Anna Sewell's Black Beauty
# The Magician's Horse by Andrew Lang
# The Princess on the Glass Hill, Sir George Webbe Dasent's retelling of an ancient Norwegian fairytale
An extract from The Magician's Horse:
One day while the magician was out the prince was working in the stables, grooming the magician's horse, when to his great surprise it spoke to him "Come into my stall," it said. "Fetch my bridle and saddle and put them on me. Then take the bottle that is beside them it contains an ointment that will make your hair shine like pure gold. Then pile all the wood you can gather together onto the stove.""
Full Synopsis
About the Book
Published:

Aug-2015

Formats:

Print

Pages:

40

Purchase: