Description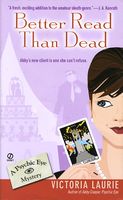 Once again, Abby Cooper's abilities are in high demand. But this time she won't just be finding a deadly criminal--she'll be helping one.

It's autumn in Detroit, and psychic intuitive Abby Cooper is falling to pieces. She was about to nestle into her cozy, almost-renovated new house--and into the arms of FBI agent Dutch Rivers. Then, faster than you can say trick or treat, her plans fell apart with one phone call....

As a favor for a friend, Abby agrees to read tarot cards at a wedding and finds herself predicting the

future for some very shady guests. Word of her talents reaches a Mob boss who wants her help in some business matters, and he doesn't take no for an answer. Then the police seek out her psychic intuition to shed light on a masked man who's been attacking women, and Abby's working for both sides of the law. With all of Dutch's time going to a big FBI case and his sultry new partner, Abby's on her own, leading her to wonder: Why didn't I see this coming?
Full Synopsis
About the Book
Published:

Jun-2005

Formats:

Print / eBook / Audio

Pages:

296

Age Level:

18 & up

Purchase: