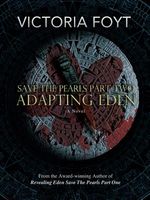 Newest Release
Bibliography:

3 Books - 1 Series

First Book:

March 2007

Latest Book:

January 2013

Rating:
Full Series List in Order
1 - Revealing Eden (Jan-2012)
2 - Adapting Eden (Jan-2013)
Book List in Order:
3

titles
The Virtual Life of Lexie Diamond

Lexie Diamond loves her computer. She loves to surf the Web more than anything else--and to the exclusion of a social life. Beyond being just a computer geek, Lexie has developed a unique philosophy that the essential truth about life is found on the...

---

Revealing Eden

Eden Newman must mate before her 18th birthday in six months or she'll be left outside to die in a burning world. But who will pick up her mate-option when she's cursed with white skin and a tragically low mate-rate of 15%? In a post-apocalyptic, tot...

---

Adapting Eden

In the sequel to the award-winning, dystopian novel, Revealing Eden, Eden Newman must adapt into a hybrid human beast if she hopes to become Ronson Bramford's mate. She has no choice but to undergo her fathers adaptation experiment at his makeshift l...

---
Frequently Asked Questions (FAQ)
Victoria Foyt has published 3 books.
Victoria Foyt does not have a new book coming out soon. The latest book, Adapting Eden, was published in January 2013.
The first book by Victoria Foyt, The Virtual Life of Lexie Diamond, was published in March 2007.
Yes. Victoria Foyt has 1 series.