Description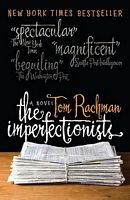 Set against the gorgeous backdrop of Rome, Tom Rachman's wry, vibrant debut follows the topsy-turvy private lives of the reporters, editors, and executives of an international English language newspaper as they struggle to keep it--and themselves--afloat.

Fifty years and many changes have ensued since the paper was founded by an enigmatic millionaire, and now, amid the stained carpeting and dingy office furniture, the staff's personal dramas seem far more important than the daily headlines. Kathleen, the imperious editor in chief, is smarting from a betrayal in her open marriage; Arthur, the lazy obituary writer, is transformed by a personal tragedy; Abby, the embattled financial officer, discovers that her job cuts and her love life are intertwined in a most unexpected way. Out in the field, a veteran Paris freelancer goes to desperate lengths for his next byline, while the new Cairo stringer is mercilessly manipulated by an outrageous war correspondent with an outsize ego. And in the shadows is the isolated young publisher who pays more attention to his prized basset hound, Schopenhauer, than to the fate of his family's quirky newspaper.

As the era of print news gives way to the Internet age and this imperfect crew stumbles toward an uncertain future, the paper's rich history is revealed, including the surprising truth about its founder's intentions.

Spirited, moving, and highly original, The Imperfectionists will establish Tom Rachman as one of our most perceptive, assured literary talents.
Full Synopsis
About the Book
Published:

Apr-2010

(Hardcover)

Jan-2011

(Paperback)

Formats:

Print / eBook / Audio

Pages:

281

Purchase:
What Readers Are Saying
What do you think? Write your own comment on this book!
Write a Comment
"What I really fear is time. That's the devil: whipping us on when we'd rather loll, so the present sprints by, impossible to grasp, and all is suddenly past, a past that won't hold still, that slides into these inauthentic tales. My past – it doesn't feel real in the slightest. The person who inhabited it is not me. It's as if the present me is constantly dissolving."
The Imperfectionists is the first novel by British-born journalist and author, Tom Rachman. Set in late 2006 and early 2007, each of eleven chapters is like a vignette of the lives of particular characters who are, in some way, associated with the Rome-based International English-Language newspaper that was founded in 1953 by successful Atlanta businessman, Cyrus Ott. The alternate chapters detail significant events in the newspaper's history.
While the main plot is straightforward: the creation and eventual demise of the publication; there is a myriad of sub-plots involving the various characters, so that each of those chapters is almost a short story itself, involving some characters from the other chapters. This is reminiscent of Rohinton Mistry's Swimming Lessons (Tales from Firosha Baag).
Rachman gives the reader a cast of quirky characters: a mild-mannered obituary writer whose superior shows such a lack of compassion at his personal tragedy that it elicits a vengeful response; a business editor who finds herself forsaking friends, family and her own values so as not to be single; a young stringer stranded in Cairo with no idea of how to report; a corrections editor who finally learns the truth about an idolised friend; a dying writer resigned to her fate; a jaded Paris correspondent reaching desperation point; a reluctant young heir whose closest relationship is with his basset hound; a faithful reader who lives in the past, avoiding a certain fateful day; a publisher who founds a paper for the sake of unrequited love; a dreary news editor who forces his own worst fear to eventuate; an editor-in-chief who looks for a lover and finds a much-needed friend; a copy editor who feels excluded, persecuted and on the brink of redundancy; and a financial officer whose unwise decision sees her humiliated.
Rachman involves his characters in the petty politics, conflicts and occasional charitable acts that make up a busy workplace and comprise everyday life. He gives them words of wisdom: "We enjoy this illusion of continuity and we call it memory. Which explains, perhaps, why our worst fear isn't the end of life, but the end of memories" and 'Nothing in all civilisation has been as productive as ludicrous ambition. Whatever its ills, nothing has created more. Cathedrals, sonatas, encyclopedias: love of God was not behind them, nor love of life. But the love of man to be worshipped by man." He gives them throw away lines: "Journalism is a bunch of dorks pretending to be alpha males" and "I suspect that revenge is one of those things that's better in principle than in practice…there's no real satisfaction in making someone else suffer because you have"
This novel is often funny, sometimes sad, and the reader will be moved to reflect on the ultimate fate of print newspapers in today's world. A brilliant debut.