Description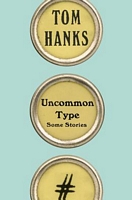 A collection of seventeen wonderful short stories showing that two-time Oscar winner Tom Hanks is as talented a writer as he is an actor.

A gentle Eastern European immigrant arrives in New York City after his family and his life have been torn apart by his country's civil war. A man who loves to bowl rolls a perfect game--and then another and then another and then many more in a row until he winds up ESPN's newest celebrity, and he must decide if the combination of perfection and celebrity has ruined the thing he loves. An eccentric

billionaire and his faithful executive assistant venture into America looking for acquisitions and discover a down and out motel, romance, and a bit of real life. These are just some of the tales Tom Hanks tells in this first collection of his short stories. They are surprising, intelligent, heartwarming, and, for the millions and millions of Tom Hanks fans, an absolute must-have!
Full Synopsis
About the Book
Published:

Formats:

Print / eBook / Audio

Pages:

416

Purchase:
What Readers Are Saying
What do you think? Write your own comment on this book!
Write a Comment

Uncommon Type: Some Stories is the first print book by American actor, filmmaker and author, Tom Hanks. This is a collection of seventeen quite diverse stories. They vary not only in subject matter, but also format. Many are straight narrative, but there's also a screen play and a series of newspaper columns from the Tri-Cities Daily News/Herald entitled Our Town Today with Hank Fiset. Hank muses on modern news consumption and production compared with that of fifty years ago; he shares his opinion of New York City; he reminisces on significant moments in his life as punctuated by a typewriter bell; he describes a return to analog by a typewriting evangelista.

Typewriters feature heavily: there's a typewriter on the cover; there's an image of a different model of typewriter at the beginning of each chapter; sometimes, a typewriter is an integral part of the story, sometimes it has a minor role, and sometimes it just gets an incidental mention. Many of the characters are appealing and a particular quartet who reappear twice after their initial tale might be well suited to have their own novel (in fact, one of their stories was published in a separate volume in 2014).

The stories are an ideal length for dipping into, but also interesting and different enough to read without pause. Topics are many and mixed: refugees in the present day (or near future) and from a half a century ago; travel by car and plane as well as time travel, space travel and travel down memory lane; ten pin bowling; surfing; motel accommodation; moving house; the public relations junket; making it on the stage; the heavy toll of wartime service.

Hanks gives the reader laughter and romance, loyal friends, wise words and plots that aren't entirely predictable. It's easy to imagine Hanks himself as the narrator in many of these tales: his voice is really there, even in the print version. This is an outstanding debut, and if Hanks ever tires of Hollywood, he can certainly direct his energies to the keyboard (whether a typewriter or electronic), as more tales of this ilk would definitely be welcome. Very enjoyable.