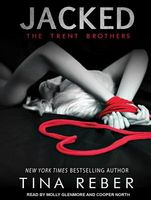 Newest Release
Bibliography:

4 Books - 1 Series

First Book:

January 2013

Latest Book:

December 2014

Rating:
Full Series List in Order
1 - Love Unscripted (Jan-2013)
2 - Love Unrehearsed (Feb-2013)
3 - Love Unguarded ()
Book List in Order:
4

titles
Love Unscripted

An A-List Movie Star . . . Ryan Christensen just wanted to be an actor. Never in his wildest dreams did he imagine a life where fans would chase him, paparazzi would stalk him, and Hollywood studios would want to own him. While filming in Seaport,...

---

Love Unrehearsed

At last, the rest of the story that began in Love Unscripted. There is no rehearsal for true love. When A-list movie star Ryan Christensen ducked into her pub to escape his screaming fans, never in a million years did Taryn Mitchell think her life...

---

---

---
Frequently Asked Questions (FAQ)
Tina Reber has published 4 books.
Tina Reber does not have a new book coming out soon. The latest book, Jacked, was published in December 2014.
The first book by Tina Reber, Love Unscripted, was published in January 2013.
Yes. Tina Reber has 1 series.