Description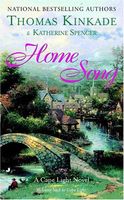 In this inspiring novel, world-renowned "Painter of Light' Thomas Kinkade brings us back to Cape Light--the little town we know by heart...

If you drive along the New England coast, you will come to the charming village of Cape Light. It's the kind of place where neighbors help neighbors and people have the time to appreciate God's blessings every day. Their lives are not without disappointment--even heartbreak. But there's something special about this town. And once you get there, you won't want to leave...

Mayor Emily Warwick can't remember the last time she let herself dream. That's something she did in her old life--when she allowed herself to hope. Now her days are consumed by the responsibilities of her job and the incessant demands of her elderly mother. And there's her younger sister Jessica, who is about to walk down the aisle with a man their mother despises. Emily has two months to bring their mother around, but so far--even with their minister's support--her plan isn't working. And it doesn't help that Emily's still mourning the husband she lost and wondering what happened to the baby she gave up for adoption more than twenty years ago. Sometimes she thinks it would take a miracle to fill the hole in her heart.

But miracles do happen here in Cape Light. You just have to close your eyes--and believe in your dreams...
Full Synopsis
About the Book
Published:

Oct-2002

Formats:

Print / eBook

Pages:

384

Age Level:

18 & up

Purchase: