Description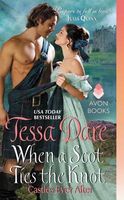 On the cusp of her first London season, Miss Madeline Gracechurch was shy, pretty, and talented with a drawing pencil, but hopelessly awkward with gentlemen. She was certain to be a dismal failure on the London marriage mart. So Maddie did what generations of shy, awkward young ladies have done: she invented a sweetheart.

A Scottish sweetheart. One who was handsome and honorable and devoted to her, but conveniently never around. Maddie poured her heart into writing the imaginary Captain MacKenzie letter after letter . . . and by pretending to be devastated when he was (not really) killed in battle, she managed to avoid the pressures of London society entirely.

Until years later, when this kilted Highland lover of her imaginings shows up in the flesh. The real Captain Logan MacKenzie arrives on her doorstep -- handsome as anything, but not entirely honorable. He's wounded, jaded, in possession of her letters . . . and ready to make good on every promise Maddie never expected to keep.
Full Synopsis
About the Book
Published:

Aug-2015

Formats:

Print / eBook / Audio

Pages:

384

Purchase:
What Readers Are Saying
What do you think? Write your own comment on this book!
Write a Comment

Maddie has sever social anxiety, so she creates a fictional suitor, Logan. Suspend disbelief here because her family buys the lie and let her become a recluse. Years later, turns out Logan is real and he wants to marry Maddie. The initial set up is ridiculous, because Maddie pulled Logan's name and regiment number out of thin air and somehow he's real. Returned from war, Logan wants to give his men a home and Maddie's castle is the perfect spot. They marry immediately and slowly fall in love. This was cute, sweet and funny, with likable and vulnerable characters. Maddie and Logan together made me smile and ahhh. Both wanted acceptance and love, and in the end both became stronger because of each other.