Description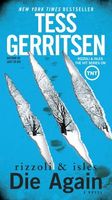 Detective Jane Rizzoli and medical examiner Maura Isles are back -- and they're going into the wild to find a killer. Die Again is the latest heart-pounding thriller in Tess Gerritsen's bestselling series, the inspiration behind TNT's hit show Rizzoli & Isles.

When Boston homicide detective Jane Rizzoli and medical examiner Maura Isles are summoned to a crime scene, they find a killing worthy of the most ferocious beast -- right down to the claw marks on the corpse. But only the most sinister human hands could have left renowned big-game hunter and taxidermist Leon Gott gruesomely displayed like the once-proud animals whose heads adorn his walls. Did Gott unwittingly awaken a predator more dangerous than any he's ever hunted?

Maura fears that this isn't the killer's first slaughter, and that it won't be the last. After linking the crime to a series of unsolved homicides in wilderness areas across the country, she wonders if the answers might actually be found in a remote corner of Africa.

Six years earlier, a group of tourists on safari fell prey to a killer in their midst. Marooned deep in the bush of Botswana, with no means of communication and nothing but a rifle-toting guide for protection, the terrified tourists desperately hoped for rescue before their worst instincts -- or the wild animals prowling in the shadows -- could tear them apart. But the deadliest predator was already among them, and within a week, he walked away with the blood of all but one of them on his hands.

Now this killer has chosen Boston as his new hunting ground, and Rizzoli and Isles must find a way to lure him out of the shadows and into a cage. Even if it means dangling the bait no hunter can resist: the one victim who got away.
Full Synopsis
About the Book
Published:

Jan-2015

(Hardcover)

Sep-2015

(Paperback)

Formats:

Print / eBook / Audio

Pages:

352

Purchase:
What Readers Are Saying
What do you think? Write your own comment on this book!
Write a Comment

I love this series and this book was as well-written as the rest. Be forewarned, though, that it is even gorier than the rest of the series. I couldn't read it while I was eating, which hasn't been a problem for me in the past. Just sayin.
Die Again is the eleventh book in the Rizzoli and Isles series by popular American author, Tess Gerristen. A bizarre murder bearing all the hallmarks of a game hunter has Rizzoli and Isles visiting the Suffolk Zoo and learning about large cats. A seemingly unrelated body dug up in a garden sees Maura taking an uncharacteristic stance, just on a hunch, to insist the murders are related. Before long, other cold cases are examined for similarities, and a link to a Botswana safari gone horribly wrong is established. Can the lone survivor of that massacre help Boston PD bring a murderer to justice?

Gerritsen uses the first-person voice of Millie Jacobson to relate the horrific events of the Bostwana safari while the Boston events are narrated in the third person from the perspective of Rizzoli or Isles. As always, Rizzoli's family dramas provide lighter moments in a story that is fast-paced and exciting. Gerritsen manages to include plenty of facts about large cats, hair analysis and game hunting in easily digestible chunks. The plot has plenty of twists that will keep the reader guessing to the end. And Jane's visit to Africa is completely credible, unlike the African foray on which James Patterson sends Alex Cross in Cross Country. This is another gripping page-turner, and Gerritsen fans will not be disappointed.