Description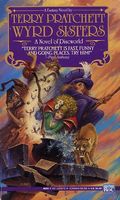 ALL THE DISCS A STAGE..::

And when three witches have their monthly cauldron stirring disturbed by murder, mayhem, and the sudden arrival of a royal baby, trouble is bound to be brewed up in the little kingdom of Lancre. Especially when the witches are Granny Weatherwax and her spell sisters, who give the noble heir and his crown away to a passing troupe of actors. But the ghost of the children's father insists that the witches find the hidden princeling and help him wrest the kingdom away from the regicide who's running it now--a

ruler who thinks that witches should pay taxes like everyone else. Though Granny is now angry enough to try to move the town years ahead of its time, and set the stage for a final act in which the rightful king is crowned, there's the chance that someone will rewrite the script before she gets all the actors in place!
Full Synopsis
About the Book
Published:

Formats:

Print / eBook / Audio

Pages:

288

Purchase: