Description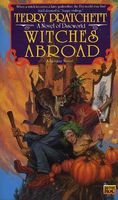 DEATH WAITS FOR NO ONE -- NOT EVEN A FAIRY GODMOTHER...

So when Desiderata waited a little too long to find a successor, it was up to the Discworld's own zany version of the three witches--Magrat Garlick, Granny Weatherwax, and Nanny Ogg--to grab their broomsticks and keep Desiderata's appointment in far-distant Genua and save Princess Emberella from her other fairy godmother's determination to create a "happy ending."

Along the way, the three would lace all the usual travelers' woes--foreign food, languages, and accommodations,

plus the occasional vampire, werewolf, and falling house. But their troubles wouldn't realty begin until they got to lovely, law-abiding Genua--and found themselves facing a full-blown case of fairy godmother rivalry!
Full Synopsis
About the Book
Published:

Formats:

Print / eBook / Audio

Pages:

384

Purchase: