Description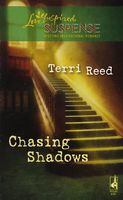 NOW YOU SEE THEM, NOW YOU DON'T

When senior citizens start mysteriously disappearing from a Boston retirement home, heiress Kristina Worthington is suspicious. Especially since she fears her beloved grandmother is next. Without solid evidence, she's forced to turn to the one police officer who might listen -- her former love, Gabe Burke. Now a seasoned cop, Gabe still sees her as the rich girl whose family thought he wasn't good enough. And though he takes on the case, Gabe seems convinced he's chasing shadows. Until they start dodging

threats, bullets...and their own rekindled feelings.
Full Synopsis
What Readers Are Saying
What do you think? Write your own comment on this book!
Write a Comment
Terri Reed has once again managed to write a great suspenseful romance! I could feel the connection between these two, and found how Gabe behaved toward Kristina's parents in the end very, very sweet! I was very impressed in how the author transformed this story from beginning to end, and how she brought us to a shocking conclusion...One thing I really liked about the book is trying to figure out what the heck was going on! The author starts out the book with missing people in a nursing home and the story just gets better from there...

Great book!