Description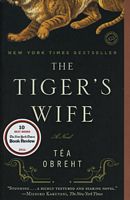 Weaving a brilliant latticework of family legend, loss, and love, Tea Obreht, the youngest of The New Yorker's twenty best American fiction writers under forty, has spun a timeless novel that will establish her as one of the most vibrant, original authors of her generation.

In a Balkan country mending from years of conflict, Natalia, a young doctor, arrives on a mission of mercy at an orphanage by the sea. By the time she and her lifelong friend Zora begin to inoculate the children there, she feels age-old superstitions and secrets gathering everywhere around her. Secrets her outwardly cheerful hosts have chosen not to tell her. Secrets involving the strange family digging for something in the surrounding vineyards. Secrets hidden in the landscape itself.

But Natalia is also confronting a private, hurtful mystery of her own: the inexplicable circumstances surrounding her beloved grandfather's recent death. After telling her grandmother that he was on his way to meet Natalia, he instead set off for a ramshackle settlement none of their family had ever heard of and died there alone. A famed physician, her grandfather must have known that he was too ill to travel. Why he left home becomes a riddle Natalia is compelled to unravel.

Grief struck and searching for clues to her grandfather's final state of mind, she turns to the stories he told her when she was a child. On their weeklytrips to the zoo he would read to her from a worn copy of Rudyard Kipling's The Jungle Book, which he carried with him everywhere; later, he told her stories of his own encounters over many years with the deathless man, a vagabond who claimed to be immortal and appeared never to age. But the most extraordinary story of all is the one her grandfather never told her, the one Natalia must discover for herself. One winter during the Second World War, his childhood village was snowbound, cut off even from the encroaching German invaders but haunted by another, fierce presence: a tiger who comes ever closer under cover of darkness. These stories, Natalia comes to understand, run like secret rivers through all the other stories of her grandfather's life. And it is ultimately within these rich, luminous narratives that she will find the answer she is looking for.
Full Synopsis
About the Book
Published:

Mar-2011

(Hardcover)

Dec-2011

(Paperback)

Formats:

Print / eBook / Audio

Pages:

353

Purchase:
What Readers Are Saying
What do you think? Write your own comment on this book!
Write a Comment
The Tiger's Wife is the first novel by Serbian-born American author, Tea Obrecht, and is the winner of the 2011 Orange Prize for Fiction. Young doctor, Natalia Stefanovic is on an assignment with her life-long friend Zora to innoculate the children of a remote Balkan village orphanage when she learns of her grandfather's death. Her grandmother believes he was on his way to meet Natalia, is distraught that he died alone in a town none of them recognises, and that his belongings are missing. As she tries to come to terms with the loss of a man who loomed large in her life, Natalia is distracted from her medical duties by memories of her grandfather and also by the strange digging activities in a nearby vineyard. Obrecht employs three narrative strands: Natalia relates what happens on her vaccination excursion; her grandfather, a well-respected doctor, tells of his three encounters with a deathless man; and Natalia chronicles the events of a certain winter in World War Two, when the village her grandfather grew up in was visited by a tiger. In each of the narrations, secondary characters are elegantly given backstories so that a collection of short stories is seamlessly woven into the whole. Obrecht's characters are interesting and authentic and her descriptive prose is wonderfully evocative: "Pigeons, clustered thick enough to be visible from the hill, shuffled like cowled women up and down the street.." Against a backdrop of seemingly ever-present war, Obrecht explores superstitions and customs, secrets and lies, fears and rituals, history and folklore, myths and mysteries, love and revenge, and of course, death. This moving and thought-provoking novel is an amazing debut. Readers will look forward to more from Obrecht.