Description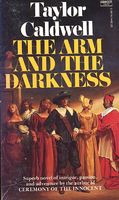 THE CARDINAL LUSTED AFTER THE YOUNG QUEEN, AND ALL OF FRANCE KNEW IT!

Taylor Caldwell's incomparable talent as a storyteller has never been more brilliantly revealed than in this thrilling novel of France in the time of the infamous Cardinal Richelieu and the struggle for survival between the Catholics and the Huguenots.

THE ARM AND THE DARKNESS is a rich tapestry of the intrigue, loyalty and treachery that marked one of the most glittering epochs in the history of Europe.
Across the pages of this novel march

the great men and women of the time. Woven into the fabric of this sweeping tale is the tender story of the love between Arsene, a dashing young Huguenot, and the beautiful Catholic peasant girl, Cecile.
Full Synopsis