Description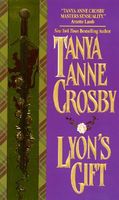 LYON'S PRIDE

Piers de Montgomerie, known as "Lyon" for his fierceness in combat, accepts the challenge of the Scottish king, agreeing to quell a troublesome highland feud and to accept the disputed lands as payment But his battle skills are no match for the flashing eyes and barbed tongue of "Mad" Meghan Brodie--the spirited wench he now holds hostage, who fires his blood with her heart-stirring beauty.

LYON'S GIFT

Distrustful of men and feigning madness, in truth Meghan is cunning as a fox--and far too

loyal to her clan to be swayed by her arrogant captor's honeyed words and virile charms. She will make the Lyon pay dearly for the "gift" he has so brazenly stolen--even as her own traitorous heart begs her to surrender gladly to the one great love that can heal an injured land.
Full Synopsis