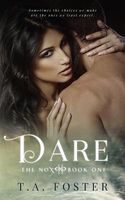 Newest Release
Bibliography:

13 Books - 4 Series

First Book:

August 2013

Latest Book:

July 2015

Rating:
Full Series List in Order
1 - Finding Haven (May-2014)
2 - Red Lines (Feb-2015)
1 - Time Spell (Aug-2013)
2 - Cover Spell (Nov-2013)
3 - Fire Spell (Jul-2014)
1 - Kissing Eden (Mar-2014)
2 - Loving Eden (Sep-2014)
3 - A Very Grey Christmas (Nov-2014)
1 - Dare (Jul-2015)
Book List in Order:
13

titles
Time Spell

/ Paranormal Romance

Ivy Grace is learning that magic—and love—are all about the right timing. Follow the adventures of this spirited young Southern woman as she embarks upon a successful new career writing novels and movies that explore romantic mysteries of the pa...

---

Cover Spell

/ Fantasy

Trying her best to mend a broken heart, Ivy Grace travels to hot and sultry New Orleans, the set of her latest novel turned movie. There, she attempts to focus on polishing up the screenplay when the film's lead actress goes missing. Throw in a buddi...

---

London Falling

/ Contemporary Romance

It's London's senior year and she only needs one class to graduate. She just didn't expect her final assignment: fall in love.Communication 224 has a reputation for giving out the most unique projects of the semester. When London James and Beau...

---

Kissing Eden

/ Contemporary Romance

Have you ever thought of taking a vacation alone? I mean step on a plane, check into your hotel, and lie on the beach completely and utterly alone. No? Me either, but then right before senior spring break I got dumped. Something about break ups makes...

---

Finding Haven

Power. Money. Control. Love. He has all but one. When movie star, Evan Carlson, discovers his girlfriend's picture with another man splashed on the cover of gossip magazines, he decides he's had enough of his fishbowl life and attempts to outrun ...

---

Fire Spell

Ever since her trip to New Orleans Ivy Grace's life just hasn't been the same. Her magic is stronger, her stories more popular than ever, but something is missing. After she opens a forgotten inheritance from her grandmother, she learns the key t...

---

---

Loving Eden

Have you ever thought of packing up everything you own and moving halfway across the country? I'm talking about leaving your entire life behind—friends, family, school—with no turning back. No? Me either, but that was before a week of spring br...

---

Written in the Sand

/ Contemporary Romance

Blair is determined to stay on course. Her reporting career is waiting for her if she can just make it through summer on the island. Justyn knows not to get attached to tourist girls breezing through town for only a season. Maggie wants to cherish ...

---

---

A Very Grey Christmas

/ Contemporary Romance

I was getting ready to spend the single most important holiday of the year alone. Completely and utterly alone. That meant he wouldn't be there Christmas Eve. No making Christmas cookies, or listening to my dad sing off-key while my mom bustled aro...

---

Red Lines

/ Contemporary Romance

Love on remote Perry Island was one thing, but with the flash of a camera everything has changed. Movie star Evan Carlson has just landed the role of a lifetime, playing the infamous Dexter Red. Fans can't get enough of the sexiest, most-talked-abou...

---

---

Dare

Choices should come easily to a queen. Especially the queen of panther shifters. But Dare, leader of the Nox, faces the most difficult decisions of her life as she struggles to keep her freedom and keep the Nox safe. Destined to marry when she turns ...

---
Frequently Asked Questions (FAQ)
T.A. Foster has published 13 books.
T.A. Foster does not have a new book coming out soon. The latest book, Dare, was published in July 2015.
The first book by T.A. Foster, Time Spell, was published in August 2013.
Yes. T.A. Foster has 4 series.