Description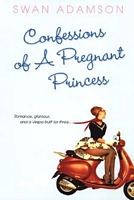 When Marcello Brunelli--aka Il Principe of one of Italy's oldest and most fabulous families--declared his love to down-on-her-luck, done-with-men Venus Gilroy, she learned a few eyebrow-raising things about love and life. And now she's willing to share...

Portland, Oregon, Really Is A Long Way From Rome.
When a prince invites you to his place, it's not for take-out Chinese and a DVD. No, Marcello flew me home, a sprawling palace where we could be under the same roof and still a mile away from each other. It was a far cry from my ratty apartment and my usual luck with men. Turns out Marcello wanted me to teach him about slacking while he did his suave Italian best to seduce me...

Lifestyles Of The Rich And Royal Are Kind Of...Boring.
Prince or not, Marcello was an everyday workaholic. Well, "everyday" in the "jetting off and meeting with other captains of industry" sense. Which left me noodling around the palazzo with his suspicious adult daughter, his more-royal-than-thou mother--and Johnny, his hot-and-hunky chauffeur, as my Vespa-driving tour guide.

There's A Chance Fairy Tales Just Might Come True Anyway...
Romance and Rome match up like a little black dress on a blonde, and it didn't take long for me to fall head over high heels for Marcello--for real. But sometimes even fairy tales can surprise you...
Full Synopsis
About the Book
Published:

Aug-2005

Formats:

Print / eBook

Pages:

389

Purchase: