Description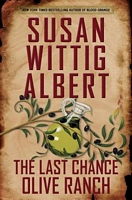 In this exciting new mystery from New York Times bestselling author Susan Wittig Albert, China Bayles fears for her husband's life as an escaped convict targets him...

Max Mantel, the killer McQuaid put away years ago, has busted out of the Huntsville prison and appears to be headed for Pecan Springs. McQuaid knows there's only one way to stop the vengeful convict -- set a trap with himself as bait.

China wants to stay by her husband's side and keep him from harm. But McQuaid insists that she get out of town and go to the Last Chance Olive Ranch, where she's agreed to teach a workshop on herbs.

When China and her best friend arrive at the ranch, she learns the owner, Maddie Haskell, has her own troubles. She inherited the ranch and olive oil business from the late matriarch, Eliza Butler, but Eliza's nephew is contesting the will.

While China throws herself into helping Maddie, McQuaid's plan backfires when Mantel executes a countermove he never saw coming. Now McQuaid's life is not the only one at stake -- and this time may really be his last chance...
Full Synopsis
About the Book
Published:

Apr-2017

(Hardcover)

Mar-2018

(Paperback)

Formats:

Print / eBook

Pages:

320

Purchase:
What Readers Are Saying
What do you think? Write your own comment on this book!
Write a Comment
This was a great China Bayles story this time. It was full of suspense, red herrings, bad guys and bounders. What was notable about the book was the dual storyline. Right from the beginning Ms. Albert split China and her husband McQuaid up and they each are following their own mysteries and bad guys. McQuaid has just found out that a guy who he had put in prison for murder when he was a cop has just escaped from prison, and he's on the loose killing everyone that was involved in his arrest and conviction. Since McQuaid was the officer who was in charge when he was arrested, he knew that he and his family would be in danger. He convinces China to go with her best friend Ruby to the Last Chance Olive Ranch for the weekend, thus keeping her safely out of the picture if Mantel comes to Pecan Springs to wreak havoc on himself or his family. But at the Last Chance Olive Ranch, China and Ruby uncover another unscrupulous plot and a man who will stop at nothing to get what he thinks is his rightful inheritance. Both McQuaid and China have to face extreme danger. This book was great. It moved along at a very swift pace, and the opposing storylines were run back to back with each chapter. This is the the China Bayles that I love - gritty, smart and never, ever to be underestimated. This is a wonderful series, and Ms. Albert's information on herbs and all things culinary are like little gems spread throughtout the pages.