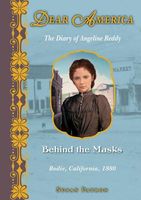 Newest Release
Bibliography:

10 Books - 1 Series

First Book:

August 1991

Latest Book:

January 2012

Rating:
Full Series List in Order
1 - The Higher Power of Lucky (Nov-2006)
2 - Lucky Breaks (Mar-2009)
3 - Lucky for Good (Aug-2011)
Multi-Author Series List
The Boldest Mask
(Jan-2012)
Book List in Order:
10

titles
---

Five Bad Boys, Billy Que, and the Dustdobbin

The Dustdobbin under his bed shrinks Billy Que down to its own size to teach him what it is like to be small, and he must get freely offered gifts from five stubborn boys before regaining his normal size...

---

---

---

The Higher Power of Lucky

Lucky, age ten, can't wait another day. The meanness gland in her heart and the crevices full of questions in her brain make running away from Hard Pan, California (population 43), the rock-bottom only choice she has. It's all Brigitte's fault -- fo...

---

Maybe Yes, Maybe No, Maybe Maybe

the jam in the sandwich Sometimes that's how PK feels, squeezed in between her supersmart older sister, Megan, and her superadorable younger sister, Rabbit -- especially now, with Megan almost a teenager and becoming impossible, and Rabbit worrying ...

---

Lucky Breaks

Things are fairly normal in Hard Pan, population forty-three. But to Lucky, fairly normal means fairly boring, and she's restless. Just in the nick of time, she meets a potential new best friend named Paloma, who happens to be visiting Hard Pan wit...

---

Lucky for Good

For eleven-year old Lucky, the universe is full of questions. Is that mysterious woman at the cafÉ Miles's mom? Does her father not talk to her because he hates her? Will the Health Department ruin everything? Is she really going to go to hell? The a...

---

Behind the Masks

/ General Fiction

Newbery Award-winning author Susan Patron brings her talents to the beloved Dear America series in this exciting story of a girl growing up in the Wild West, in a California gold mining town. Growing up in the wild gold-mining town of Bodie, Californ...

---

---

The Boldest Mask

Growing up in the wild gold-mining town of Bodie, California, in the 1880s, Angeline Reddy has seen it all -- saloons, brawls, and a whole lot of desperation. When her father, Bodie's greatest lawyer, is declared murdered, Angie knows deep in her hea...

---
Award-Winning Books by Susan Patron
The Higher Power of Lucky
2006 Parents Choice Award (Fall) (1998-2007) -- Recommended
2007 Newbery Medal -- Children's
Frequently Asked Questions (FAQ)
Susan Patron has published 10 books.
Susan Patron does not have a new book coming out soon. The latest book, The Boldest Mask, was published in January 2012.
The first book by Susan Patron, Burgoo Stew, was published in August 1991.
Yes. Susan Patron has 1 series.