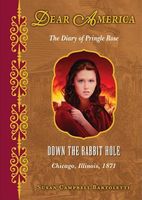 Newest Release
Bibliography:

15 Books

First Book:

September 1994

Latest Book:

March 2013

Rating:
Multi-Author Series List
A Coal Miner's Bride: The Diary of Annetka Kaminska, Lattimer, Pennsylvania, 1896
(Jul-2000)
Down the Rabbit Hole: The Diary of Pringle Rose
(Mar-2013)
The Journal of Finn Reardon
(May-2003)
Book List in Order:
15

titles
---

Dancing with Dziadziu

Gabriella loves to dance, and she loves to hear her grandmother Babci's stories--stories about Poland, the house in the coal patch, the chickens with blue feet. And especially the stories of those happy evenings long ago when Babci danced with her ...

---

No Man's Land, a Young Soldier's Story

Far from home. Near to danger. Fourteen-year-old Thrasher Magee is too young to enlist in the Confederate army, but he has his own reasons for wanting to fight in the war. All of his life, Thrasher's father has made him feel weak and cowardly. N...

---

No Man's Land

Because he had been unable to fight off the gator that injured his father, fourteen-year-old Thrasher joins the Confederate Army hoping to prove his manhood and battles his own insecurities and fears while facing the grim realities of war....

---

---

The Christmas Promise

A young girl and her out-of-work father ride the rails during the Great Depression looking for a place to call home, but with Christmas approaching and no job, Poppa leaves her in a foster home, promising to return as soon as he can....

---

The Journal of Finn Reardon

When his father dies, Finn Reardon must support his family by selling newspapers on the streets of Manhattan, where he finds himself in the middle of the Newsie Strike of 1899.

When Finn Reardon's father dies, he decides to support his mother ...

---

Nobody's Nosier than a Cat

Nobody's prowlier than a cat-a sneak-a-peek cat, a hide-'n'-seek cat. How do you describe the most beloved pet in America? It would take a whole new dictionary of authentic and invented words to capture their essences. Watch out, Webster's! Award-win...

---

The Flag Maker: A Story of the Star-Spangled Banner

Here in lyrical prose is the story of the flag that inspired Francis Scott Key to write the words that became the national anthem of the United States. This flag, which came to be known as the Star-Spangled Banner, also inspired author Susan Campbell...

---

---

Nobody's Diggier Than A Dog

Nobody's waggier than a dog - a meet-'n'-greet, belly-up, rub-a-dub dog. Often words cannot describe man's best friend, so sometimes you've got to break the rules! Susan Campbell Bartoletti unleashes a whole new pack of adjectives in this howling ode...

---

Hitler Youth: Growing Up in Hitler's Shadow

"I begin with the young. We older ones are used up . . . But my magnificent youngsters! Look at these men and boys! What material! With them, I can create a new world." --Adolf Hitler, Nuremberg 1933 By the time Hitler became Chancellor of Germany in...

---

The Boy Who Dared

Just as the Nazis are rising to power, Helmuth Hubener, a German schoolboy, is caught up in all the swashbuckling bravado of his time. The handsome stormtrooper uniforms, the shiny jackboots and armbands, the rousing patriotism -- all serve to draw...

---

Naamah and the Ark at Night

As Noah's wife sings the animals to sleep, an age-old tale is told afresh in a soothing poetic form brought to life with beautiful collage illustrations. Naamah is the wife of Noah, and her name means "great singer." For forty days and forty nig...

---

Growing Up in Coal Country

Inspired by her in-laws' recollections of working in coal country, Susan Campbell Bartoletti has gathered the voices of men, women, and children who immigrated to and worked in northeastern Pennsylvania at the turn of the nineteenth century. Th...

---

Down the Rabbit Hole: The Diary of Pringle Rose

Newbery Honor author Susan Campbell Bartoletti brings the story of a young girl caught up in a web of murder, lies, and the Great Fire of Chicago to bold life. In the spring of 1871, fourteen-year-old Pringle Rose learns that her parents have been...

---
Award-Winning Books by Susan Campbell Bartoletti
The Boy Who Dared
2009 Carolyn W. Field Award -- Children's
2011 William Allen White Childens Book Award -- Grades 6-8
Frequently Asked Questions (FAQ)
Susan Campbell Bartoletti has published 15 books.
Susan Campbell Bartoletti does not have a new book coming out soon. The latest book, Down the Rabbit Hole: The Diary of Pringle Rose, was published in March 2013.
The first book by Susan Campbell Bartoletti, Silver at Night, was published in September 1994.
No. Susan Campbell Bartoletti does not write books in series.