Description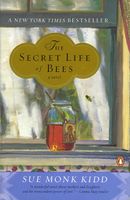 Set in South Carolina in 1964, The Secret Life of Bees tells the story of Lily Owens, whose life has been shaped around the blurred memory of the afternoon her mother was killed. When Lily's fierce-hearted black "stand-in mother," Rosaleen, insults three of the deepest racists in town, Lily decides to spring them both free. They escape to Tiburon, South Carolina--a town that holds the secret to her mother's past. Taken in by an eccentric trio of black beekeeping sisters, Lily is introduced to their mesmerizing world of bees and honey, and the Black

Madonna. This is a remarkable novel about divine female power, a story that women will share and pass on to their daughters for years to come.
Full Synopsis
About the Book
Published:

Oct-2002

(Hardcover)

Jan-2003

(Paperback)

Formats:

Print / eBook / Audio

Pages:

301

Age Level:

18 & up

Purchase:
What Readers Are Saying
What do you think? Write your own comment on this book!
Write a Comment
I was given this book by my daughter-in-law and granddaughter to read. I am glad they forwarded it on to me because it is a book that all daughters and mothers of daughters should read. The book is set in the deep south in 1964. This is of course during the time of all the civil rights demonstrations and of Martin Luther King and Malcom X. The book is a coming of age story about a motherless girl of 14 who sets out with her nanny to try to find information about her mother who died when she was 4. At the beginning of the book she lives with her brute of a father. She and her nanny get into some trouble with the law in their home town so they escape. Lily knows only that her mother had ties to a small town in South Carolina called Tiburon. And Lily knows her mother had visited this town at least once so she wants to go there to try to piece together her mother's past. Lily and Rosaleen end up in the home of a negro beekeeper and her two sisters. Finally Lily and Rosaleen have a place which they can call home and where there is love and acceptance instead of anger and bullying. The book continues on at a leisurely pace during the months of July and August. The story of the bees runs through this story of humans, pointing out some of the similarities in the two forms of communal life. Lily does finally find out information about her mother, but by that time she has integrated so much into this warm family of women, that she wants to move on with her life instead of dwelling on the past. This is a warm and wonderful little story that depicts childhood and motherhood in an unforgettable way. It portrays the flaws and foibles of all humans, while at the same time showing the human capacity for acceptance and love. The characters are wonderfully drawn and the time and place of the book so clearly depicted that you feel like you have known this group of women all of your life.