Description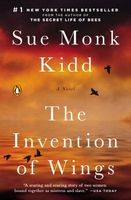 From the celebrated author of The Secret Life of Bees, a magnificent novel about two unforgettable American women

Writing at the height of her narrative and imaginative gifts, Sue Monk Kidd presents a masterpiece of hope, daring, the quest for freedom, and the desire to have a voice in the world.

Hetty "Handful" Grimke, an urban slave in early nineteenth century Charleston, yearns for life beyond the suffocating walls that enclose her within the wealthy Grimke household. The Grimke's daughter, Sarah, has known from an early age she is meant to do something large in the world, but she is hemmed in by the limits imposed on women.

Kidd's sweeping novel is set in motion on Sarah's eleventh birthday, when she is given ownership of ten year old Handful, who is to be her handmaid. We follow their remarkable journeys over the next thirty five years, as both strive for a life of their own, dramatically shaping each other's destinies and forming a complex relationship marked by guilt, defiance, estrangement and the uneasy ways of love.

As the stories build to a riveting climax, Handful will endure loss and sorrow, finding courage and a sense of self in the process. Sarah will experience crushed hopes, betrayal, unrequited love, and ostracism before leaving Charleston to find her place alongside her fearless younger sister, Angelina, as one of the early pioneers in the abolition and women's rights movements.

Inspired by the historical figure of Sarah Grimke, Kidd goes beyond the record to flesh out the rich interior lives of all of her characters, both real and invented, including Handful's cunning mother, Charlotte, who courts danger in her search for something better.

This exquisitely written novel is a triumph of storytelling that looks with unswerving eyes at a devastating wound in American history, through women whose struggles for liberation, empowerment, and expression will leave no reader unmoved.
Full Synopsis
About the Book
Published:

Jan-2014

(Hardcover)

May-2015

(Paperback)

Formats:

Print / eBook / Audio

Pages:

384

Purchase:
What Readers Are Saying
What do you think? Write your own comment on this book!
Write a Comment
This book has been on my TBR list for awhile. The book is based n the true story of well-known abolitionist Sarah Grimke. It tells of her growing up in a priviliged slave-owning white family in Charleston, SC. Her father was a well-respected magistrate and her and her numerous brothers and sisters were in Charleston society from an early age. At the age of 11, Sarah was given a black maidservant and even at that early age, Sarah couldn't bear owning a slave. Sarah and that maidservant, by the name of Hetty or Handful. as she was named by her mom, grew up together and, in spite of their differences in station, became friends. The book goes back and forth between Sarah's story and Handful's story over a thrity year time span. This form of narrative style really highlighted the differences in their lives and in therir stations. Sarah rebels against all her family stands for, and faces ostracism. Handful and her mother just try to survive, and fight to survive under appalling conditions. As I read, I found I was drawn further and further into this time. (I think that the book's back and forth narrative interefered with the natural flow of the story though) . It felt a bit disjointed at times, especially after Sarah left for the north. It was difficult to follow Handful's story, and that is really what I wanted more of. The insight into the early abolition movement was enlightening though. My main complaint with the book was a little less Sarah and a little more Handful, but in spite of that, I did enjoy Ms. Kidd's book. I'm glad I finally took the time to read it.
The Invention of Wings is the third novel by bestselling American author, Sue Monk Kidd. In it, Kidd takes the bare facts surrounding Charleston's famous (and infamous) 19th century abolitionist/emancipist sisters, Sarah and Angelina Grimke, and, as she puts it, grafts fiction onto truth to weave a fascinating and inspirational account of early abolitionism in America. Kidd employs two narrators: Sarah Grimke, and the slave she is given by her mother (and attempts to free) on her eleventh birthday, Hetty Handful Grimke. From this starting point, the contrast in their lives as they grow up is starkly illustrated. Even at the tender age of eleven, Sarah knew slavery was wrong, but it was years later before she "…saw then what I hadn't seen before, that I was very good at despising slavery in the abstract, in the removed and anonymous masses, but in the concrete, intimate flesh of the girl beside me, I'd lost the ability to be repulsed by it. I'd grown comfortable with the particulars of evil. There's a frightful muteness that dwells at the center of all unspeakable things, and I had found my way into it." Handful's narration consistently brings things into perspective: "White folks think you care about everything in the world that happens to them, every time they stub their toe." Kidd populates her novel with character both real and fictitious: Denmark Vesey, charismatic and seditious; Charlotte, loving and determined; Mary, cruel and unpredictable. Sewing and quilts, the spirit tree, stuttering, blackbirds and Quakers all have their part to play. Through all that life throws at them, the women somehow remain friends. Handful often has a perceptive take on the situation: "She was trapped same as me, but she was trapped by her mind, by the minds of people around her, not by the law……I tried to tell her that. I said, 'my body might be a slave, but not my mind. For you, it's the other way round.'" and "This ain't the same Sarah who left here. She had a firm look in her eye and her voice didn't dither and hesitate like it used to. She'd been boiled down to a good, strong broth." Kidd treats the reader to some marvellously descriptive prose: "Mother's letter in response arrived in September. Her small, tight scrawl was thick with fury and ink." and "It was the time of year when migrating crows wheeled across the sky, thunderous flocks that moved like a single veil, and I heard them, out there in the wild chirruping air. Turning to the window, I watched the birds fill the sky before disappearing, and when the air was still again, I watched the empty place where they had been" are just two examples. A powerful and moving novel.