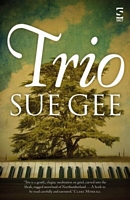 Newest Release
About the Author
Sue Gee was born in India, where her father was an Army officer. She had a her elder brother, Robert, now a retired radiographer living in Spain. She grew up on a Devon farm, and in a village in Leicestershire, before instaled in Surrey in 1960. She lived in north London for 27 years with the journalist Marek Mayer, they had a son, Jamie. She married Mayer in November 2003, less of two years before his death on 23th July 2005. Now, she lived in the town of Hay-on-Wye in the Welsh borders.

Published since 1980, her novel Letters From Prague, was serialised on BBC Radio 4's Woman's Hour and Her play, Ancient and Modern, was broadcast on BBC Radio 4 in 2004, with Juliet Stevenson in the lead role. Her novel The Hours of the Night which received wide critical acclaim and was the controversial winner of the 1997 Romantic Novel of the Year Award, an award she won again in 2004 by her novel Thin Air.

She was Programme Leader for the MA Writing programme at Middlesex University from 2000 to 2008. She is currently reading for a PhD in Creative and Critical Writing at the University of East Anglia. She has been awarded a Royal Literary Fund Fellowship.