Description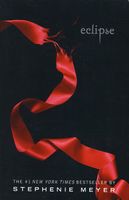 Readers captivated by Twilight and New Moon will eagerly devour Eclipse, the much anticipated third book in Stephenie Meyer's riveting vampire love saga. As Seattle is ravaged by a string of mysterious killings and a malicious vampire continues her quest for revenge, Bella once again finds herself surrounded by danger. In the midst of it all, she is forced to choose between her love for Edward and her friendship with Jacob --- knowing that her decision has the potential to ignite the ageless struggle between vampire and werewolf. With her graduation

quickly approaching, Bella has one more decision to make: life or death. But which is which?
Full Synopsis
About the Book
Published:

Aug-2007

(Hardcover)

Aug-2009

(Paperback)

Formats:

Print / eBook / Audio

Pages:

629

Age Level:

14-17

Purchase:
What Readers Are Saying
What do you think? Write your own comment on this book!
Write a Comment

Edward's family and Charlie are all keeping an eye on the trouble in Seattle. There are have been many deaths and disappearances in the area. The wolves and vampires realize they must agree to work together to protect Bella against an enemy that not even Alice can see. She just knows that they are coming and it has to do with Bella.
Graduation is also drawing closer and Bella still wants to be turned while Edward is still against it. She will soon turn eighteen though while Edward is eternally seventeen. The Volturi also expect that she will become one of them being she knows of them.
There is still one left from the rogue vampires of the first book, Victoria. A woman with such vengeance that nothing will stop her. The heat is up as Jacob does all he can to convince Bella to choose him over Edward while everyone is trying to figure out where the danger is coming from.

http://justjudysjumbles.blogspot.com/2011/11/stephanie-meyer.html