Description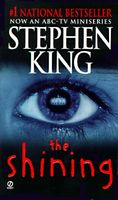 Jack Torrance sees his stint as winter caretaker of a Colorado hotel as a way back from failure, his wife sees it as a chance to preserve their family, and their five-year-old son sees the evil waiting just for them
About the Book
Published:

1977

Formats:

Print / eBook / Audio

Pages:

683

Purchase:
What Readers Are Saying
What do you think? Write your own comment on this book!
Write a Comment
The Shining is the fourth novel by popular American author, Stephen King. Unemployed professor of literature and recovering alcoholic, Jack Torrance takes a job as winter caretaker of the Overlook Hotel in the mountains of Colorado. His wife, Wendy is hopeful he can conquer his demons during their half year in the mountains and get on with his writing. His five year old son, Daniel, is plagued by pre-cognitive visions that seem to be facilitated by his imaginary friend, Tony; they are often pleasant but sometimes uncomfortable and occasionally downright terrifying. When the family arrives at the Overlook, the cook, Dick Hallorann takes Daniel aside and tells him he "shines", and gives him some welcome reassurance and advice. The Overlook hotel has links to underworld characters and has been the scene of murders, suicides and gangland-style executions. Danny senses in the Overlook a certain malevolence, a certain power, and feels the presence of past victims. After some months of almost idyllic existence, the hotel and the Torrance family are cut off from the town of Sidewinder by heavy snowfalls and impassable roads. And then the hotel begins to exert its influence on Jack and his family. Or is it just an alcoholic succumbing to cabin fever? King expertly portrays alcoholism and the descent into psychosis, and gives the reader characters of some complexity who find themselves rushing headlong into a heart-stopping climax. With Danny's narration, King uses wordplay to highlight the ambiguity of spoken English. Readers who have seen the 1980 Kubrick movie (which departs markedly from the book and disappointed King) will picture Jack Nicholson as Torrance (despite his lack of blonde hair). King once again proves he is a master story-teller, as readers who make the effort to reread this as a prequel to Doctor Sleep will discover afresh. A bestseller that is a brilliant read.