Description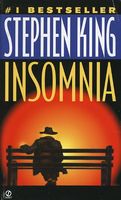 RALPH ROBERTS IS SEEING SOME STRANGE HAPPENINGS IN DERRY, MAINE.

He sees auras around human beings that show him the horror threatening them.

He sees a nice young research chemist like Ed Deepneau turn into a savage wife beater.

He sees Charlie Pickering with blood in his eyes and a gleaming knife in his hand.

And he sees three little bald doctors in the homes of the dying -- and he begins to suspect who they really are.

No wonder Ralph stays awake all night. You would, too.

Full Synopsis
About the Book
Published:

Dec-1994

(Hardcover)

Sep-1995

(Paperback)

Formats:

Print / eBook / Audio

Pages:

663

Age Level:

18 & up

Purchase: