Description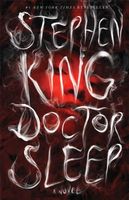 Stephen King returns to the characters and territory of one of his most popular novels ever, "The Shining," in this instantly riveting novel about the now middle-aged Dan Torrance (the boy protagonist of "The Shining") and the very special twelve-year-old girl he must save from a tribe of murderous paranormals.

On highways across America, a tribe of people called The True Knot travel in search of sustenance. They look harmless mostly old, lots of polyester, and married to their RVs. But as Dan Torrance knows, and spunky twelve-year-old Abra Stone learns, The True Knot are quasi-immortal, living off the steam that children with the shining produce when they are slowly tortured to death.

Haunted by the inhabitants of the Overlook Hotel where he spent one horrific childhood year, Dan has been drifting for decades, desperate to shed his father's legacy of despair, alcoholism, and violence. Finally, he settles in a New Hampshire town, an AA community that sustains him, and a job at a nursing home where his remnant shining power provides the crucial final comfort to the dying. Aided by a prescient cat, he becomes Doctor Sleep.

Then Dan meets the evanescent Abra Stone, and it is her spectacular gift, the brightest shining ever seen, that reignites Dan's own demons and summons him to a battle for Abra's soul and survival. This is an epic war between good and evil, a gory, glorious story that will thrill the millions of hyper-devoted fans of "The Shining" and wildly satisfy anyone new to the territory of this icon in the King canon.
Full Synopsis
About the Book
Published:

Sep-2013

(Hardcover)

Jun-2014

(Paperback)

Formats:

Print / eBook / Audio

Pages:

544

Purchase:
What Readers Are Saying
What do you think? Write your own comment on this book!
Write a Comment
Doctor Sleep is the 45th full-length novel by bestselling American author, Stephen King, and is the sequel to his fourth novel, The Shining. After a short preface that details an important interaction between young Danny Torrance and an ageing Dick Hallorann, King picks up the story some 23 years after the events at the Overlook Hotel, when Dan is hitting rock-bottom as an alcoholic. Getting off a bus in the small New Hampshire town of Frazier, he takes a temporary job as a groundsman, begins the AA program and is unwittingly contacted for the first time (of many) by a newborn with an incredibly bright "shine", Abra Stone. Their paths do not cross, however, until some twelve years later when the actions of a group called The True Knot cause Abra to seek out Dan, now working as an orderly in a hospice, in person. The True Knot are a tribe of people who travel the country in search of children who shine to feed on the "steam" they produce. As usual, King's main characters are well-rounded out and appealing. He creates a support cast with plenty of variety to people his tale: a feisty grandmother, a resourceful groundsman, a prescient cat, an alcoholic paediatrician and a bunch of innocuous-looking travellers in RVs with unusual nicknames. He sets the era of events using popular movies, songs and cheeky descriptions of presidents. His descriptive prose is wonderfully evocative: "'I must not look at it.' Too late. His head was turning; he could hear the tendons in his neck creaking like old doorhinges." His plot has several twists and turns, plenty of excitement and a gripping climax (or two), all of which ensure this work is another page-turner. Reading (or rereading) The Shining before this novel is not essential, but it is certainly advisable as many references are made to the events that occurred at the Overlook Hotel some thirty-five years previous and key phrases echo throughout this novel. This is a very satisfying sequel to The Shining; it would make a great movie with the right director (thankfully not Kubrick) and cast. Another excellent tale from the master story-teller.