Description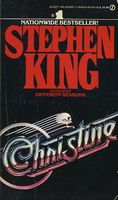 Christine is no lady, but 17-year-old Arnie Cunningham loves her enough to do anything to possess hell.

Arnie's best friend Dennis distrusts her at first sight.

Arnie's teen-queen girlfriend Leigh fears her the moment she senses her power.

Arnie's parents, teachers and enemies soon learn what happens when you cross her.

Christine is no lady. She is Stephen King's ultimate, blackly evil vehicle of horror....

About the Book
Published:

Dec-1983

Formats:

Print / eBook / Audio

Pages:

503

Age Level:

18 & up

Purchase: