Description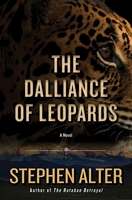 A sweeping international thriller that explores the geopolitical fault lines of South Asia.

Colonel Imtiaz Afridi, India's legendary spymaster, has zeroed in on a new threat emanating from the borderlands over which he keeps watch from his surveillance center in the Himalayan foothills. An elusive warlord -- faceless, nameless, and known only by his nom de guerre Guldaar, meaning "leopard" in Urdu -- has built an illicit empire throughout the lands that Alexander the Great once conquered, based on extortion, money laundering, corruption, and murder. His reach extends across national boundaries, and with support from elements in the CIA and Pakistan's ISI, he plays tribal factions and sovereign nations off each other and threatens to destabilize the entire, nuclear-armed region.

Seizing on Guldaar's one vulnerability, his ex-lover living with their son under CIA control in the United States, Afridi calls on agent Annapurna "Anna" Tagore to spring her loose and return her to India, where he needs her help to lay a trap. Meanwhile, when an American journalist reporting from Pakistan comes too close to the inner workings of Guldaar's empire, he is kidnapped by the Taliban and traded to the warlord as a hostage. As Afridi closes in, the American will become a critical bargaining chip in Guldaar's ruthless battle for survival.
Full Synopsis
About the Book
Published:

Formats:

Print / eBook

Pages:

320

Purchase: