Description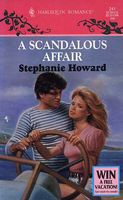 Love, lies and deception!

When Luisa Baker gate-crashed Roth Elman's exclusive party, it was with the noblest of reasons. She had to find her sister, Rita, and she was sure the charismatic millionaire held the key to her disappearance.

And yet, despite his reputation for luxurious living and scandalous affairs, Roth seemed determined to make Luisa feel guilty! How dare he accuse her of maligning his name, when she didn't even know what he was talking about!

Besides, even if half the stories about him

were exaggerations, as Roth claimed, there was no smoke without fire. Hadn't he carelessly seduced Rita? Was he intending Luisa to be his latest conquest?
Full Synopsis