Description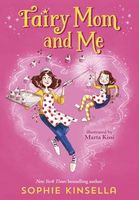 From the bestselling author of the Shopaholic series and our YA Finding Audrey, comes a series for young readers about a girl learning to become a fairy from her imperfect fairy mom, with a tech twist.

How to Become a Fairy:

1. Learn how to use a Computawand--a wand with magic and the latest spells apps. Modern magic isn't easy.
2. Use magic spells only when absolutely necessary.
3. Most importantly, keep your fairy magic secret--tell no one.

Ella Brook can't wait to grow up, because one day she will become a fairy and have her own sparkly wings and a teacher on Fairy Tube, just like her mom! Until then, Ella has to learn by watching her mom in action.

But sometimes spells go wrong, and Ella's mom can never seem to remember the right magic codes. A lot of the time, it's up to Ella to come to the rescue. Does she have what it takes to be a fairy one day? Or will there be more glitches than glitter?

Filled with Sophie Kinsella's sparkling humor and Marta Kissi's charming illustrations, Fairy Mom and Me is a story about a girl, her mom, and a little bit of magic.
Full Synopsis