Description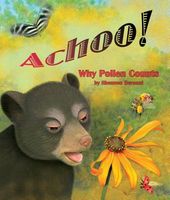 ###############################################################################################################################################################################################################################################################
About the Book
Published:

Apr-2015

(Hardcover)

May-2015

(Paperback)

Formats:

Print / eBook / Audio

Pages:

32

Age Level:

04-08

Purchase:
What Readers Are Saying
What do you think? Write your own comment on this book!
Write a Comment

Baby Bear wakes up from his Winter nap and finds himself suffering from pollen allergy. The pine forest has clouds of pollen blown about in the warm Spring wind. The forest floor is coated with pine needles and a blanket of pollen. Baby Bear gets pollen on his face and fur, which has him sneezing and suffering from itchy watery eyes. When his forest friends explain that his symptoms are caused by pollen allergens, he says, "I don't like pollen". His friends and his Mother do a great job of explaining why pollen is so important to everyone, and they do it in such a kind and friendly way. Baby Bear realizes that he does like pollen after all. This book is quite different than most children's picture books. It's words take a topic of suffering and messy pollen and create a mood of smooth, warm, and friendly fun. It makes you want to be there, in this world of freshness, calm, and friendliness. The illustrations are also so unique, using a beautiful bedtime story style and look while appearing as a new type of classic art style of forest creatures. Baby Bear rolling around in a bed of clover is priceless. It's use of clouds of pollen and cute soft characters provide a smooth mesmerizing effect that other books cannot capture. This book will be a favorite daily reader and bedtime story for toddlers, pre-school, and K-3 grades. I must rate it five stars.