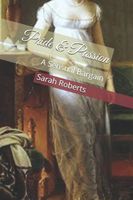 Newest Release
Bibliography:

16 Books - 2 Series

First Book:

October 1981

Latest Book:

July 2022

Rating:
Full Series List in Order
Action Hero Junkie (Sep-2012)
Hunted, Beware (Oct-2012)
Book List in Order:
16

titles
---

---

---

---

---

---

---

---

Action Hero Junkie

Mia was stuck in a rut, until one night she went to the movies and everything kind of blew up. Mia Haven's life takes a bizarre turn when a gorgeous action hero leaps out of the movie screen and saves her life. It's not until Mia gets sucked into the...

---

---

---

Under the Indian Sun

When Annie, a woman who loves to travel, decides to take her dream vacation to India, all she intends to do is have some exclusive time for herself. Little does she know that she is to lose her heart and soul to the handsome, dark-haired young man fr...

---

Love, Lies and Deceit

When Annie finally gets the chance to take her dream vacation to India, she expects nothing but peace and time spent exclusively on herself. In preparation for the trip, she communicates with a knowledgeable young man from Delhi. His name is Ashok...

---

Pride & Passion

Scorned, left destitute by her late husband's will. 'To Charlotte Viscountess Ogden, my wife, the sum of one hundred pounds for services rendered...'The lovely widow has no where to turn - unless it is to the new visount. She must throw herself on Lo...

---

Somebody Swallowed Stanley

"Plastic bags don't belong in the sea!" Everybody has a taste for Stanley - and the other ocean creatures just keep mistaking him for a delicious treat - but this is no ordinary jellyfish. Most jellyfish have dangly-gangly ...

---

---

---
Frequently Asked Questions (FAQ)
Sarah Roberts has published 16 books.
Sarah Roberts does not have a new book coming out soon. The latest book, Somebody Woke Wilson, was published in July 2022.
The first book by Sarah Roberts, Don't Cry, Big Bird, was published in October 1981.
Yes. Sarah Roberts has 2 series.