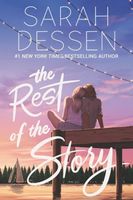 Newest Release
Bibliography:

16 Books - 1 Series

First Book:

October 1996

Latest Book:

June 2019

Rating:
Full Series List in Order
1 - Keeping the Moon // Last Chance (Sep-1999)
2 - The Truth about Forever (May-2004)
3 - Along for the Ride (Jun-2009)
4 - What Happened to Goodbye (May-2011)
5 - The Moon and More (Jun-2013)
Book List in Order:
16

titles
That Summer

the more things change... For fifteen-year-old Haven, there's just too much going on. First, there's her father's wedding to Lorna Queen, the local television "Weather Pet." Then her sister Ashley's wedding to boring Lewis Warsher, who doesn't seem ...

---

Someone Like You

"Life is an ugly, awful place not to have a best friend." Halley and Scarlett have been best friends ever since they met. Halley has always been the quiet one; Scarlett braver and more outgoing. Halley has always turned to Scarlett when things get...

---

Keeping the Moon // Last Chance

Colie expects the worst when she's sent to spend the summer with her eccentric aunt Mira while her mother, queen of the television infomercial, tours Europe. Always an outcast-first for being fat and then for being "easy"-Colie has no friends at home...

---

---

This Lullaby

The science of breaking up... Remy always knows when to give a guy "the speech"--right after the initial romantic rush, but before anything gets too serious. She's had her fair share of boyfriends, and she's learned all there is to learn from her ...

---

The Truth about Forever

A long, hot summer That's what sixteen-year-old Macy Queen has to look forward to. Her boyfriend, Jason, is going away to Brain Camp. She's stuck with a dull-as-dishwater job at the library. And all of her free time promises to be spent studying f...

---

Just Listen

Annabel Greene is the girl who has everything. At least that's who she plays in the commercial for Kopf's Department Store: top student, popular cheerleader, dazzling prom queen surrounded by friends. In real life, though, Annabel is the girl who has...

---

Twice Told: Original Stories Inspired by Original Art

A girl dresses in a bunny costume to earn her dad's approval. A boy bakes a cake and takes out his dad in the same afternoon. These are just two of the offbeat and utterly captivating scenarios readers will find in this collection of stories inspired...

---

Lock and Key

Ruby can take care of herself. She's used to counting on no one and answering to nobody. But all of that changes when her mother vanishes and Ruby is sent to live with her older sister, Cora. Now Ruby's got her own room in a fabulous new house, she'...

---

---

Along for the Ride

It's been so long since Auden slept at night. Ever since her parents' divorce--or since the fighting started. Now she has the chance to spend a carefree summer with her dad and his new family in the charming beach town where they live. A job in a ...

---

---

What Happened to Goodbye

Who is the real McLean? Since her parents' bitter divorce, McLean and her dad, a restaurant consultant, have been on the move-four towns in two years. Estranged from her mother and her mother's new family, McLean has followed her dad in leaving th...

---

The Moon and More

Luke is the perfect boyfriend: handsome, kind, fun. He and Emaline have been together all through high school in Colby, the beach town where they both grew up. But now, in the summer before college, Emaline wonders if perfect is good enough. E...

---

Saint Anything

Sydney has always felt invisible. She's grown accustomed to her brother, Peyton, being the focus of the family's attention and, lately, concern. Peyton is handsome and charismatic, but seems bent on self-destruction. Now, after a drunk-driving acci...

---

Once and for All

As bubbly as champagne and delectable as wedding cake, Once and for All, Sarah Dessen's thirteenth novel, is set in the world of wedding planning, where crises are routine. Louna, daughter of famed wedding planner Natalie Barrett, has seen ever...

---

The Rest of the Story

From #1 New York Times bestselling author Sarah Dessen comes a big-hearted, sweeping novel about a girl who reconnects with a part of her family she hasn't seen since she was a little girl -- and falls in love, all over the course of a magical summ...

---
Award-Winning Books by Sarah Dessen
Along for the Ride
2009 Goodreads Choice Award -- Young Adult Fiction
Dreamland
2002 Eliot Rosewater Indiana High School Book Award -- Grades 9-12
Just Listen
2008 Gateway Readers Award -- High School
2008 Iowa High School Book Award -- Young Adult
The Moon and More
2014 Pat Conroy Southern Book Prize -- Young Adult
2014 SIBA Book Award -- Young Adult
Someone Like You
2000 South Carolina Childrens, Junior and Young Adult Book Award -- Young Adult
The Truth about Forever
2006 South Carolina Childrens, Junior and Young Adult Book Award -- Young Adult
Frequently Asked Questions (FAQ)
Sarah Dessen has published 16 books.
Sarah Dessen does not have a new book coming out soon. The latest book, The Rest of the Story, was published in June 2019.
The first book by Sarah Dessen, That Summer, was published in October 1996.
Yes. Sarah Dessen has 1 series.