Description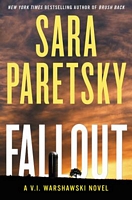 Before there was Lisbeth Salander, before there was Stephanie Plum, there was V.I. WARSHAWSKI. To her parents, she's Victoria Iphigenia. To her friends, she's Vic. But to clients seeking her talents as a detective, she's V.I. And her new case will lead her from her native Chicago... and into Kansas, on the trail of a vanished film student and a faded Hollywood star.

Accompanied by her dog, V.I. tracks her quarry through a university town, across fields where missile silos once flourished  -- and into a past riven by long-simmering racial tensions, a past that holds the key to the crimes of the present. But as the mysteries stack up, so does the body count. And in this, her toughest case, not even V.I. is safe.

Exciting and provocative, fiercely intelligent and witty, FALLOUT is reading at its most enjoyable and powerful.
Full Synopsis
About the Book
Published:

Apr-2017

(Hardcover)

Dec-2017

(Paperback)

Formats:

Print / eBook / Audio

Pages:

304

Purchase:
What Readers Are Saying
What do you think? Write your own comment on this book!
Write a Comment
This is one heckuva book! V. I. is back and she's stronger, braver and funnier than ever. And she's not even on her home turf. She has taken on a case that has her in small-town Kansas. And she's not all alone either. She has taken her dog Peppy with her for moral support. It turns out that it's a good thing she has Peppy there for her own protection because she's on a doozy of a case. She's been hired to find an ageing movie star and a young film director who are travelling together and she knows that they have to the town of Lawrence, Kansas to film the movie star's early life. The two have misteriously disappeared and V.I. finds that no one in the town wants to talk to her, but they sure do want to keep an eye on her and on what she's doing there every minute. In typical V.I. fashion, she uncovers a real hornet's nest of a mess that somehow involves the military, the scientific community, and even, in a remote way Russia. History is buried very deep in Lawrence, and no one wants V. I. to find out a thing, and the whole town will stop at nothing to thwart her every move. This is a fast-paced, thriller that never lets go right from the opening page.. Sara Paretsky proves once again that she belongs with the highest echelon of mystery writers with this book. V.I. does what only she can do - dig as deep as she has to to get to the bottom of the mystery, and she puts herself right on the firing line while she's out ferreting the truth. Thank you Sara for a really enjoyable ride. I can't wait for the next V.I. Warshawski mystery. You never disappoint.