Description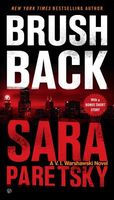 Chicago's V. I. Warshawski confronts crooked politicians and buried family secrets in the gritty new novel from New York Timesâ€"bestselling author Sara Paretsky.

No one would accuse V. I. Warshawski of backing down from a fight, but there are a few she'd be happy to avoid. High on that list is tangling with Chicago political bosses. Yet that's precisely what she ends up doing when she responds to Frank Guzzo's plea for help.

For six stormy weeks back in high school, V.I. thought she was in love with Frank. He broke up with her, she went off to college, he started driving trucks for Bagby Haulage. She forgot about him until the day his mother was convicted of bludgeoning his kid sister, Annie, to death. Stella Guzzo was an angry, uncooperative prisoner and did a full twenty-five years for her daughter's murder.

Newly released from prison, Stella is looking for exoneration, so Frank asks V.I. for help. V.I. doesn't want to get involved. Stella hated the Warshawskis, in particular V.I.'s adored mother, Gabriella.

But life has been hard on Frank and on V.I.'s other childhood friends, still stuck on the hardscrabble streets around the dead steel mills, and V.I. agrees to ask a few questions. Those questions lead her straight into the vipers' nest of Illinois politics she's wanted to avoid. When V.I. takes a beating at a youth meeting in her old hood, her main question becomes whether she will live long enough to find answers.
Full Synopsis
About the Book
Published:

Aug-2015

(Hardcover)

Jun-2016

(Paperback)

Formats:

Print / eBook / Audio

Pages:

480

Age Level:

18 & up

Purchase:
What Readers Are Saying
What do you think? Write your own comment on this book!
Write a Comment
Sara Paretsky proves once again that she is one of the best mystery writers out there. This book is a real wild ride. I read through the book at breakneck pace. The tension never lets up from the first page right up to the very end where Ms. Paretsky treats us to such a menacing ending. What she does best is her characterization. Her bad guys are really bad guys and VI always finds herself on the wrong side of them and she's quite often in the unenviable place of being on the outs with Chicago's finest at the same time. In this book we get a good look at VI's young growing up years in the rough south end of Chicago. An old flame asks for her help to gather information to help get an exoneration for his mother who has just served 25 years in prison for killing her daughter who was Frank's sister. It goes against everything VI wants to do. She does not want to dredge up all the memories of her childhood when her mother and father were both alive, but she is forced into helping when some old acquaintances start bad -mouthing her family and herself. At great risk to herself ,she sets out to clear the name of her famous cousin Boom Boom Warshawski who was a stellar hockey player for the Chicago Blackhawks. I love VI. She's such a champion of the truth and will do anything to help people who come to her for help. Non-stop action, and the developing relationship between VI and her musician boyfriend Jake were what kept me flipping pages in this book. I highly recommend it.