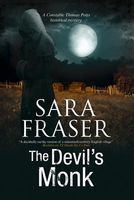 Newest Release
Bibliography:

31 Books - 2 Series

First Book:

January 1989

Latest Book:

August 2015

Rating:
Full Series List in Order
1 - The Reluctant Constable (Sep-2007)
2 - The Resurrection Men (Sep-2008)
3 - The Drowned Ones (Mar-2010)
4 - Suffer the Children (Aug-2011)
5 - Til Death do Us Part (May-2013)
6 - The Devil's Monk (Aug-2015)
2 - The Poorhouse Woman (Apr-1991)
5 - Radical Women (Nov-1989)
6 - Gang Woman (Oct-1990)
Nursing Woman (Dec-1991)
Book List in Order:
31

titles
---

---

---

Radical Women

January 1823. Freed at last from the threatening presence of her husband, Tildy continues her solitary struggle to earn a living for herself and her small son. Working at the mill she meets Josh Dyson, who dreams of forming a union, but there are pow...

---

---

Gang Woman

By the summer of 1823 Tildy has been laid off from her work at the needle mill and is part of a field gang working for a farmer. Sinister events at the farm, however, compel her to take refuge with Ester Smith the wisewoman, or, as some claim, witch....

---

The Poorhouse Woman

The first of a series featuring a courageous young woman in the exploited 1820s nailmaking community of Bromsgrove in Worcestershire. In an unhospitable land she becomes the spirited challenger to the nailers' oppressors in their - and her - struggle...

---

The Harsh Noontide

Sequel to "The Bitter Dawning", this novel continues the story of Grainne McDermott and her husband as they set sail for Liverpool from Ireland in 1848. Shipwrecked, she arrives in Liverpool alone. Her money dwindles to the point that she contemplate...

---

Nursing Woman

The third of the series featuring Tildy, from the exploited 1820s nailmaking community of Bromsgrove in Worcestershire. Tildy's experience of caring for the sick in the poorhouse stands her in good stead when she gets a job as a nurse to the invalid ...

---

---

The Sisterhood

In 1906, a young widow, Emma, calls her late husband's daughter Miriam back from where she fled to escape a broken love affair. Although still mourning her lover, an interest for Miriam develops when the suffragettes arrive in town. Women are the pro...

---

---

Spec's War

This is the story of "Spec", a scruffy, bespectacled ten year old boy in a Midlands town experiencing the turmoil of the Second World War.It is about a world that has now totally disappeared. A world in which children were both actors and spectators ...

---

The Target

Ruthless Spencer is a professional. Son of a prominent US politician, Alexander is the target; lonely in his English public school and ripe for blackmail. Hoffman is the link and a member of the British Secret Service. As the temptation to double-cro...

---

---

The Reluctant Constable

It is the year 1826 . . . - Gentle, impoverished bachelor Thomas Potts is forced to fill the unpopular post of Constable of the Parish of Tardebrigge. Timid by nature and hectored by his shrewish mother, things do not initially go well for Tom. But w...

---

The Resurrection Men

A Thomas Potts historical mystery - It is 1826, and in the town of Redditch in Worcestershire, Thomas Potts, reluctant Parish Constable, battles to keep the peace. With the notorious Needle Pointers up in arms at the news of a cut in their rate of pa...

---

The Drowned Ones

Murder on the waterways of post-Regency England 1827, Redditch, Worcestershire. Thomas Potts is despairing of his courtship of Amy Danks. With neither money nor prospects, she will surely look elsewhere. But when the body of a girl is found in th...

---

Suffer the Children

A raving, bedraggled girl is found sheltering in a barn near the Parish of Tardebigge in Worcestershire. Then the decomposing body of a small boy is unearthed by poachers in a nearby wood. Both cases appear to be connected to a wagonload of children ...

---

Til Death do Us Part

An Officer of the Honourable East India Company is greatly desirous of finding a soul-mate to share his life and fortune". Lonely spinster Phoebe Creswell responds to an advertisement in the Worcester Herald,but are the outwardly charming Major Chr...

---

---

The Imperialists

Summer, 1914. Josie Kitson is a young teacher living with her invalid mother. The consummation of her affair with a married Methodist worthy, Clement Hulme, awakens a liking for sex and a realization that he's not what she really wants. When she meet...

---

Montague's Whore

/ General Fiction

London, 1859. A survivor of the famine that ravaged her Irish homeland, Rosaleen Calatrava is the beautiful kept mistress of elderly businessman Solomon Montague, living at his expense in a secluded villa. Yet, alongside her brother Dermot, Rosalee...

---

The Devil's Monk

July, 1829. When a female corpse, dressed in male clothing, is discovered lying in a haystack in the Worcestershire countryside, rumor and superstition abound. For the sighting of a man in white robes fleeing from the scene leads to suspicion that th...

---

Beau Specs

Cecil 'Specs' Kensal is now a young teenager in the early 1950s. After the trials of World War II, which nobody really bothered to explain, Specs' dad has suddenly reappeared -- apparently owning a vast ranch Down Under -- but still in need of a plac...

---

---

A Bitter Legacy

A compelling historical adventure, set against the background of 19th century Jamaica Jamaica, 1806. Justin Brent arrives from England to take over his uncle's sugar plantation. Young and idealistic, he is shocked by the attitudes of his fellow 'buck...

---

The Healing Nightfall

It is 1848 and the future looks grim for the beautiful, newly-widowed Grainne Shonley. With her family gone, she has no future in her famine-torn homeland of Ireland—so when she is offered a position in a Warwickshire manor-hose, she gratefully acc...

---

---

Summer of the Fancy Man

In a quiet Worcestershire town in 1902, the return from the Boer War of dashing, handsome and newly rich Johnny Purvis has a devastating effect on the lives of three very different women…Cleopatra Dolton: beautiful and intelligent, her life is made...

---

Tildy - Pointing Woman

In the autumn of 1822 Tildy has found employment as nurse to the aged mother of Charles Burke Bromley. Safe and sheltered with baby Davy, she nevertheless feels compelled to leave after she turns down Bromley's offer of marriage. Tildy is working i...

---

---

The Trooper's Wife

A compelling historical saga set at the time of the Crimean WarLittle Rosie Pearson is left to fend for herself when her beloved grandmother is hounded to death on suspicion of being a witch. From then on, Rosie's life is one of hardship and abuse, u...

---

The Workhouse Doctor

January 1843. Liddy Landser, heroine of The Surgeon's Apprentice, has returned to Bromsgrove in disgrace, to take up a position as schoolmistress at the local Workhouse. The position has been engineered for her by George Harcourt, Liddy's father's cr...

---
Frequently Asked Questions (FAQ)
Sara Fraser has published 31 books.
Sara Fraser does not have a new book coming out soon. The latest book, The Devil's Monk, was published in August 2015.
The first book by Sara Fraser, The Bitter Dawning, was published in January 1989.
Yes. Sara Fraser has 2 series.