Description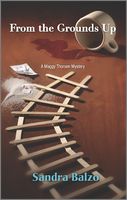 THE BEST-BREWED PLANS…

By now, the only thing Maggy Thorsen can trust to stay smooth in her life is her coffeehouse's specialty roast. Though she's got wealthy real estate agent Sarah as her new partner, Maggy has only three months to renovate Sarah's old train depot property into a rebuilt Uncommon Grounds. And when Sarah's cranky uncle, Kornell, challenges Sarah's ownership of the property, the project threatens to grind to a halt…until Kornell dies in a car crash.

Maggy's sizzling sheriff boyfriend discovers

Kornell's accident was anything but. And soon the new Uncommon Grounds is beset with weird "accidents" and escalating vandalism. With Sarah's erratic behavior and another mysterious death added to the mix, Maggy is going to need more than double shots to untangle some high-stakes financial dealings and a simmering, poisonous family legacy. And if she's not careful, she could get burned -- permanently.
Full Synopsis
About the Book
Published:

Mar-2010

(Hardcover)

Jan-2011

(Paperback)

Formats:

Print / eBook / Audio

Pages:

184

Purchase: