Description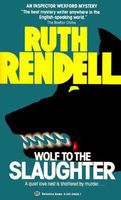 Chief Inspector Wexford's canny yet compassionate crime-solving has endeared him to readers around the world, earning his creator, Ruth Rendell, the highest praise.

In Wolf to the Slaughter-, this much is clear: Anita Margolis is missing. The free-living beauty was last seen at a party before vanishing. Wexford's second-in-command, Mike Burden, dismisses her as a libertine on a lark -- until evidence suggests that Anita has been killed. A local hotel room popular with illicit lovers is a literal bloody mess, but there's no dead body in sight.

What was the real violation and who was the real victim? Inspector Wexford knows that, as ever, murder and morality are never as simple as they seem.
Full Synopsis