Description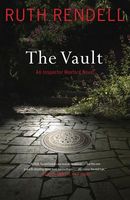 In the stunning climax to Rendell's classic A Sight for Sore Eyes, three bodies -- two dead, one living -- are entombed in an underground chamber beneath a picturesque London house. Twelve years later, when a manhole cover is pulled back, the house's new owner makes a grisly discovery. Only now, the number of bodies is four. How did somebody else end up in the chamber? And who knew of its existence?

With their own detectives at an impasse, police call on former Chief Inspector Wexford, now retired and living with his wife in London, to advise them on the unsolved murders. Wexford, missing the thrill of a good case, jumps at the chance to sleuth again. His dogged detective skills and knack for figuring out the criminal mind take him to London neighborhoods, posh and poor, as he follows a complex criminal trail back to the original murders.

But just as Wexford's case gets hot, a devastating family tragedy pulls Wexford back to Kingsmarkham, and for the first time in his life, Wexford finds himself transforming from investigator into victim. Masterfully plotted, The Vault will satisfy both longtime Wexford fans and new Rendell readers.
Full Synopsis
What Readers Are Saying
What do you think? Write your own comment on this book!
Write a Comment
I am sad that we're getting to the end of Reg Wexford. I have been reading this series for many, many years, and I have always loved. it. In this book, Reg is newly retired, and he and his unflappable wife Dora are dividing their time between their hourse in Kingsmarkham and a converted carriage house in London. Reg has been enjoying his retirement, but does find that time sometimes hangs heavy on his hands. When he is asked by a former subordinate who is a DCI in London to help with a cold case he jumps at it. Four bodies are found in an underground culvert in the yard of an old and infamous house. And three of them had been there for at least 12 years. The fourth body had only been there for about two. It's difficult for Wexford to piece together who the bodies are, why they are there and why has one body only been there for two years. I found that a retired Wexford is just as enoyable as a full DCI Wexford. He's still as sharp as a tack and he uncannily knows People and what makes them tick. Ms. Rendell is a master novelist and no one can touch her in plot building; or in character building either for that matter. I really enjoyed this book and am sad to be coming to the end of Wexford's long and storied career.