Description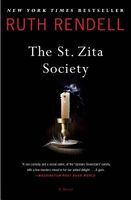 From three-time Edgar Award-winning mystery writer Ruth Rendell comes a captivating and expertly plotted tale of residents and servants on one block of a posh London street -- and the deadly ways their lives intertwine.

Life for the residents and servants of Hexam Place appears placid and orderly on the outside: drivers take their employers to and from work, dogs are walked, flowers are planted in gardens, and Christmas candles lit uniformly in windows. But beneath this tranquil veneer, the upstairs-downstairs relationships are set to combust.

Henry, the handsome valet to Lord Studley, is sleeping with both the Lord's wife and his university-age daughter. Montserrat, the Still family's lazy au pair, assists Mrs. Still in keeping secret her illicit affair with a television actor -- in exchange for pocket cash. June, the haughty housekeeper to a princess of dubious origin, tries to enlist her fellow house-helpers into a "society" to address complaints about their employers. Meanwhile, Dex, the disturbed gardener to several families on the block, thinks a voice on his cell phone is giving him godlike instructions -- commands that could imperil the lives of all those in Hexam Place.
Full Synopsis
What Readers Are Saying
What do you think? Write your own comment on this book!
Write a Comment
It's a Rendell book so the unexpected and the off-the-wall are the norm. I love Ruth Rendell's writing. It's always a treat and it certainly is usually different than the mainstream. No one does weird and downright spooky people like Ruth Rendell and this book has about seven or eight of them. At first it's hard to keep all the characters straight but as I read, they became much clearer. This is a book about a bunch of servants that live in an upper class London neighbourhood. They band together to form a servant society called the Saint Zita Society. Saint Zita is a patron saint for those who serve. Sounds fairly innocuous doesn't it. Well really it's anything but. Remember this is a Ruth Rendell book. This group of rag-tag individuals do all sorts of weird and wonderful things all the way up to murder. It was wonderful to see all the various degrees of depravity for Rendell's characters in this book. And they all, with the exception of one individual, appear to be normal people on the outside. This lady is a wonderful author, and whether as Ruth Rendell or Barbara Vine, I will keep coming back to read her books.