Description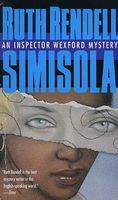 THE LADY VANISHES
No one admitted to spotting the doctor's missing daughter--even after the murders began. Melanie Akande, eschewing privilege, had insisted on going to the jobsearch office to find employment. But between that office and the bus stop, she vanished. Inspector Wexford hoped someone would have noticed her, since the Akandes were among the few Africans living in Kingsmarkham. Instead, he had found a middle-aged white woman strangled in bed, and a mysterious black girl buried in a shallow grave.

Now Wexford, seeking

connections among the three women, cast his baleful eye on the changes in once rural Sussex--from a Kuwaiti millionaire's Rolls-Royce to the growing slums and dismal hopelessness of unemployed youth. What he can't see among them is the shocking, blood-chilling motive to kill. And what he has yet to find is a doctor's missing child....
Full Synopsis