Description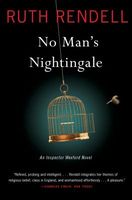 From crime legend Ruth Rendell, the gripping new novel in her beloved (USA Today) Inspector Wexford series, which will soon mark its fiftieth anniversary

A female vicar named Sarah Hussain is discovered strangled in her Kingsmarkham vicarage. Maxine, the gossipy cleaning woman who finds the body, happens to also be in the employ of former Chief Inspector Reginald Wexford and his wife. When called on by his old deputy, Wexford, who has taken to reading "The Decline and Fall of the Roman Empire" as a retirement project, leaps at the chance to tag along with the investigators. Wexford is intrigued by the unusual circumstances of the murder, but he s also desperate to escape the chatty Maxine.

A single mother to a teenage girl, Hussain was a woman working in a male-dominated profession. Of mixed race and an outspoken church reformer, she had turned some in her congregation against her, including the conservative vicar s warden. Could one of her enemies in the church have gone so far as to kill her? Or could it have been the elderly next-door gardener with a muddled alibi?

As Wexford searches the vicar s house alongside the police, he sees a book, Newman s "Apologia Pro Vita Sua," lying on Hussain s bedside table. Inside it is a letter serving as a bookmark. Without thinking much, Wexford puts it into his pocket. Wexford soon realizes he has made a grave error he s removed a piece of evidence from the crime scene. Yet what he finds inside begins to illuminate the murky past of Sarah Hussain. Is there more to her than meets the eye?
Full Synopsis
What Readers Are Saying
What do you think? Write your own comment on this book!
Write a Comment
Wexford in retirement is not the same Wexford as DCI. I've read the last few books which take up with Wexford in his retirement from the CID. They just don't grab me the same way. Ruth Rendell is an excellent writer, and she has been one of my favourites for many years, both as herself and under her pseudonym Barbara Vine. She has a way of exploring the "off the wall" like no other author out there. But her latest books just don't have the same tension or even the same creepy characters. In this book Wexford is called out of retirement by his pal and former co-worker Burden when a female vicar is found strangled in her home.He's asked to come and observe, but with Wexford being Wexford observation alone is not in his wheelhouse. He gets thoroughtly involved with the vicar and all the people connected to her in some way. He follows his own line of enquiry which is in a totally different direction than Burden's. The idea of the story is a good one and the plotline is tight as I've come to expect from Ms. Rendell, but there wasn't much tension at all during the entire book. Not what I expect from Ms. Rendell at all.